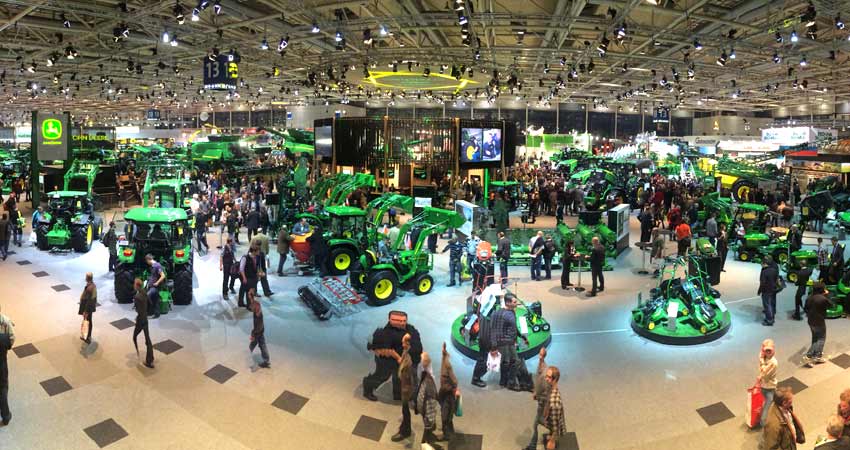 Agritechnica Preview Part 2: Is organic and sustainable farming the wave of the future?
In last week's blog, we discussed top digital trends helping in the agricultural and farming community. Today, we're looking at a few other major trends that will no doubt be a major part of next month's Agritechnica trade show in Hanover, Germany: sustainable agriculture and organic farming.


Here's more on each of them and how the Russian government is aiming to make it a part of their export strategy.


Sustainable agriculture


The goal of sustainable agriculture is to meet society's food and textile needs in the present without compromising the ability of future generations to meet their own needs.


Those who practice sustainable agriculture integrate three main objectives into their work:


A healthy environment
Economic profitability
Social and economic equity

Every person involved in the food system—growers, food processors, distributors, retailers, consumers, and waste managers—can play a role in ensuring a sustainable agricultural system.


Eco-friendly practices a growing trend in farming

Nearly one-third of the world's farms have adopted more environmentally friendly practices while continuing to be productive, according to a global assessment by 17 scientists in five countries. Researchers analyzed various practices, including organic farming, that use land, water, biodiversity, labor, knowledge and technology to both grow crops and reduce environmental impacts like pesticide pollution, soil erosion, and greenhouse gas emissions.


Writing in the journal Nature Sustainability, researchers estimate that nearly one-tenth of the world's farmland is under some form of sustainable intensification, often with dramatic results. New practices can improve productivity, biodiversity and ecosystem services while lowering farmer costs. For example, they document how West African farmers have increased yields of maize and cassava; some 100,000 farmers in Cuba increased their productivity 150 percent while cutting their pesticide use by 85 percent.


Sustainable intensification "can result in beneficial outcomes for both agricultural output and natural capital," the researchers write.


Organic farming


Certified organic agriculture accounts for 170 million acres, with over half of that total in Australia. Those acres represent 1.4% of worldwide farmland. Organic farming continues to be developed by various organic agriculture organizations today. It is defined by the use of fertilizers of organic origin such as compost manure, green manure, and bone meal and places emphasis on techniques like crop rotation and companion planting. In general, organic standards are designed to encourage naturally occurring substances and prohibit – or at the very least strictly limit — synthetic substances. Naturally occurring pesticides such as pyrethrin and rotenone are permitted, but synthetic fertilizers and pesticides are not.

Organic standards are set by the International Federation of Organic Agriculture Movements (IFOAM), an international umbrella organization for organic farming organizations established in 1972.


Since 1990, the market for organic food and other products has grown rapidly, reaching $63 billion USD worldwide in 2012. This demand has driven a similar increase in organically managed farmland that grew from 2001 to 2011 at a compounding rate of 8.9 percent per year.


Organic farming tends to have a limited environmental impact as it encourages the responsible use of energy and natural resources the maintenance of biodiversity preservation of regional ecological balances enhancement of soil fertility maintenance of water quality.


Additionally, organic farming rules encourage a high standard of animal welfare and require farmers to meet the specific behavioral needs of animals.


Organic farming in Russia

Healthy, greener options are starting to appear in Russia with surprising, based in large part on a new government initiative.


In November 2017, Russian President Vladimir Putin and Prime Minister Dmitry Medvedev tasked farmers nationwide with turning the nation into the world's largest organic food exporter.

New laws regulate production, storage and transportation of organic food in the country as Russia aims to for a greener farming sector.
 
The law adopts models seen in over 80 countries worldwide, restricting the use of agrochemicals and pesticides in production.

"Producers will be able to request certification of their production methods. We will create a unified state register of such producers, which will be open to the public. Such producers will also be able to receive government support," Medvedev said in a government meeting on agriculture in January 2018.
 
Russia is optimistic regarding its proposed green agricultural law. Medvedev believes it could give the nation enough export potential to account for 25% of global organic food supplies.
We would love to hear from you – we will be at Hall 21, Stand B14. If you want to connect beforehand, send us an email at info@bazisgroup.com.