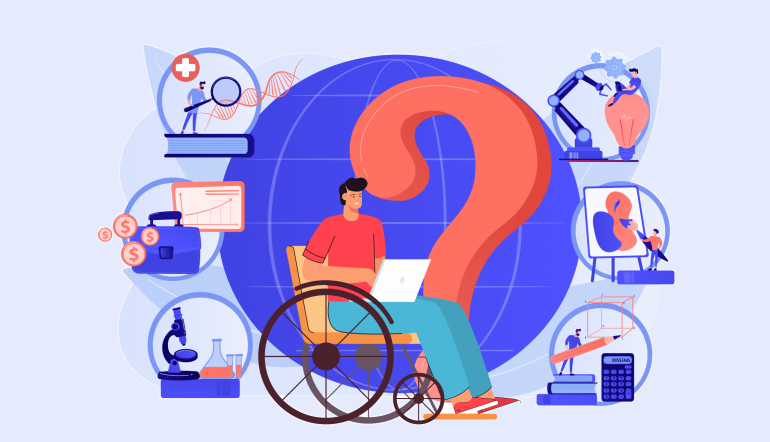 Are my career options limited? They should not be.
Our research shows that students with special needs aspire to more creative and challenging professions than what school administrators would recommend.
Which job will be interesting, AND pay well? Every high school graduate is contemplating this question. And if the student has physical or mental limitations or special needs, the anxiety is much, much stronger.
A Cook, a Massage Therapist, a Handyman, a Factory Worker – if you ask school admins, these are professions most suited for people with special needs. Is this it? Not quite!
If you talk to high school students with disabilities, currently choosing a profession, their aspirations are much, much broader. They are considering professions that require creativity and a scientific approach – a Software Engineer, a Robotics Technician, a Sound Engineer, an Actor, a Designer, or a Physician.
Bazis Health in collaboration with patient communities continues to investigate inclusive environments issues. Our recent research was about the future career choice path for people with disabilities.
Student participants of our research had the following special needs: autism spectrum disorder, hearing disorders, visual impairments, speech disorders, and musculoskeletal disorders.
We looked at the information sources students with disabilities use to choose a profession. We compared the choice of future profession between people with mental and physical disabilities. We talked to people with disabilities to understand if they feel limited in the career options they can pursue.
For all groups, regardless of the disease, schools and teachers are the main sources of information. Teachers, clubs, and extracurricular activities help students in the process of self-determination.
But this source is not sufficient. As a result, not only do health-related restrictions limit the choice of available professions, but also the lack of information about suitable educational programs for people with disabilities. Our respondents felt that information about career options for people with disabilities is limited and filtered by what the public feels is "appropriate". Stereotypes still exist, and there is – still – a gap between what people with disabilities feel desirable and capable of doing when it comes to career choices.

Bazis Health is going to further investigate the issues of inclusivity related to physical and mental disorders. We will share more insights in the next posts. Stay tuned!