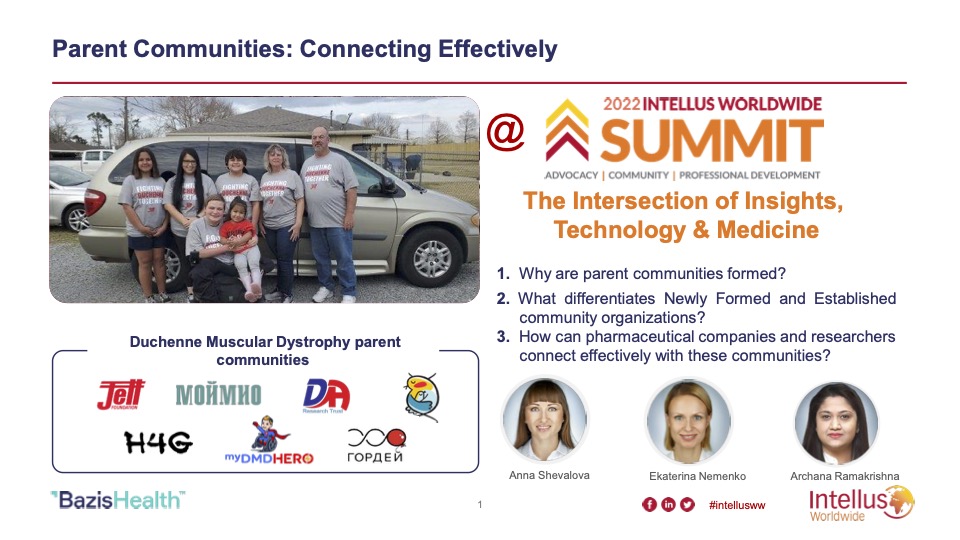 Bazis Health: Key Takeaways from 2022 Virtual Intellus Summit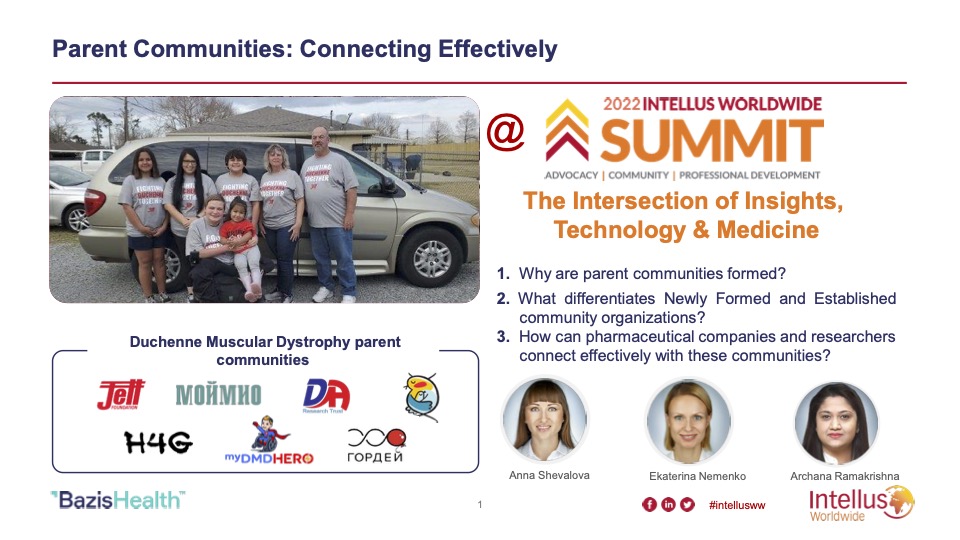 The Bazis Health team was thrilled to take part in a crucial international event in the healthcare marketing research world, the Intellus Summit 2022. Bazis members, Anna Shevalova, Archana Ramakrishna, and Ekaterina Nemenko presented our findings from ongoing research we've done in parent communities and the impact they've had on the medical community. Specifically, we aimed to demonstrate how the stage of development of a particular Parent Community influences its modes of communication with the pharmaceutical industry and how using this knowledge can help build meaningful relations with them.
After our presentation, we had an informative live discussion with representatives of seven DMD (Duchenne muscular dystrophy) parent communities who participated and shared their excellent opinion and experience coordinating with the pharmaceutical companies and other parent organizations in our research. They included Jett Foundation (USA), My DMD hero (USA), Hope for Gabe (USA), Dystrophy Annihilation Research Trust (India), Moy Mio (Russia), Parent Project (Russia), Gordey Foundation (Russia). We discussed collaborations that Parent Communities want to have with the pharma and other patient organizations and the types of projects they are open to.
We especially appreciated the Rare Advocacy Movement (RAM) and its representative Nadia Bodkin who joined our round table and discussed with us the role of advocacy groups in patient-pharma communication, as well as the future perspectives and upcoming challenges for advocacy groups.
At Intellus, we had an opportunity to attend a number of informative presentations by other companies and learn about the latest innovations and methods used in healthcare marketing research from the world's leading companies. Here's a brief summary of what we learned:

There's a quest for new research methods in a post-COVID world
During this year's Intellus Summit, we noted a number of conversations about new methods for investigating healthcare in a post-COVID world. We enjoyed the presentation on flexing multi-modal approaches and learning how "flexing the methodology muscle" and stepping out of a controlled research structure leads to insights. There were also several presentations dedicated to the technique of social listening and to the new approach to KOL mapping as practical research tools that correspond to the changing situation in healthcare.

A focus on parent involvement and a patient-centered approach to research


Our presentation on parents forming patient communities wasn't the only conversation about parent involvement: It was a theme across the Summit. The patient persona method and journey mapping were discussed among macro trends of healthcare marketing research.

One of our summit highlights was listening to the presentation of our Bazis partner, Tatiana Barakshina, who discussed diversity in clinical trials. Tatiana spoke about her research collaboration with Seton Hall students that aimed to reveal the motivators and deterrents of participation in clinical trials for female-identifying members of the Black, Indigenous, and people of color population in the 18 to 35 age group.

Although this year's event was virtual, we had the pleasure to pay a visit to other booths and listen to their presentations as if we were together in person. We were glad to welcome some pharmaceutical companies such as PTC Therapeutics, AstraZeneca, and Insmed to our virtual "booth," as well as world leaders in healthcare marketing research, including Research Partnership, AplusA Bell Falla, Branding Science, and others.

Last but not least, we're thankful to the Intellus team for their immense support. We are excited to be part of the upcoming in-person Intellus events happening on May 5th, 2022 in Chicago.