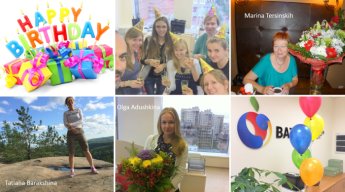 Bazis Triple Birthday
July is usually the hottest month of the summer in the Urals. If we're really lucky, we might even have several weeks of real summer heat with temperatures of 25-30 degrees above zero. You may even try swimming in our lakes instead of going to foreign resorts. July is a beautiful month: pollen isn't flying in the air annoying everyone, deliberately landing into your eyes and nose, and peonies are still blooming and spreading their fantastic fragrance.
July in Bazis is rich in birthdays. Actually, it is the only summer month when we celebrate any employee's birthday. Not one or two, but three birthdays in a row. The first one to celebrate her birthday is our Research manager Marina Terinskih. She sets the bar for festive mood. Then comes the turn of our Non-managing partner Tatiana Barakshina. Although Tatiana lives in the US, she plans her annual visit to Russia so that she can celebrate her birthday with the Bazis team. Tatiana's birthday is always fun – we go horse riding, or camping, or cycling… it will be really interesting to see what happens this year! At the end of July Research manager Olga Adushkina celebrates her birthday. Although her birthday is the last one in July, it's not the last event we celebrate in summer. In August we have the main event of the year – the Bazis Group Birthday. And we're turning 10 this year! Consider this to be a teaser…we'll tell you more about the Bazis Birthday when it's time!