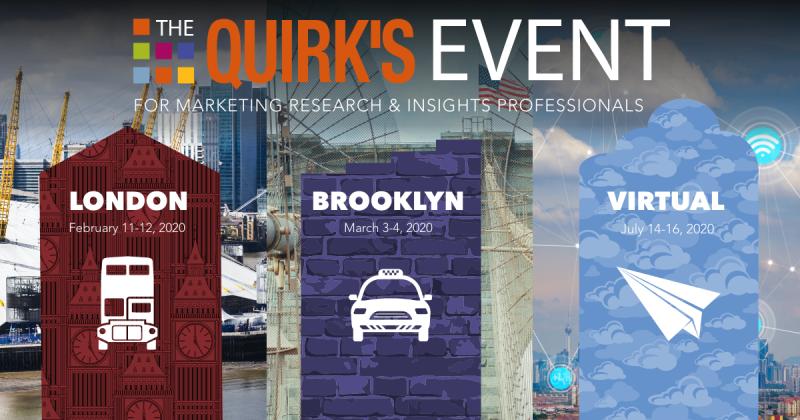 Bazis' top takeaways from the 2020 Quirks Virtual Event
In our previous blog, we discussed a number of agriculture events we've been tracking that have been postponed or cancelled. Due to the ongoing pandemic, a lot of great market research gatherings did not take place in 2020. But thanks to Quirks, we've stayed in touch with market research colleagues and shared top trends together.

Quirks executed an amazing virtual gathering — the Quirks Virtual Event — where fellow researchers discussed best practices in the new norm. Our Project Coordinator Archana Ramakrishna attended this year. The event format—despite not being in-person—still lent itself to an engaging environment where Archana had an extremely worthwhile time hearing the presenters detail their valuable insights. Even with some technical challenges, the event was a great success. It was a well-planned event where attendees had the opportunity to pick presentations that most resonated with them. The presentations were made very interactive with live chat rooms where questions were answered immediately.

Also, we still had networking! It's typically one of the most fun, interactive parts of an event. There were virtual networking lounges and roundtables where attendees could meet and greet people and discuss common topics. Not to forget the entertainment part — after day-long presentations there was a virtual live band to refresh our minds.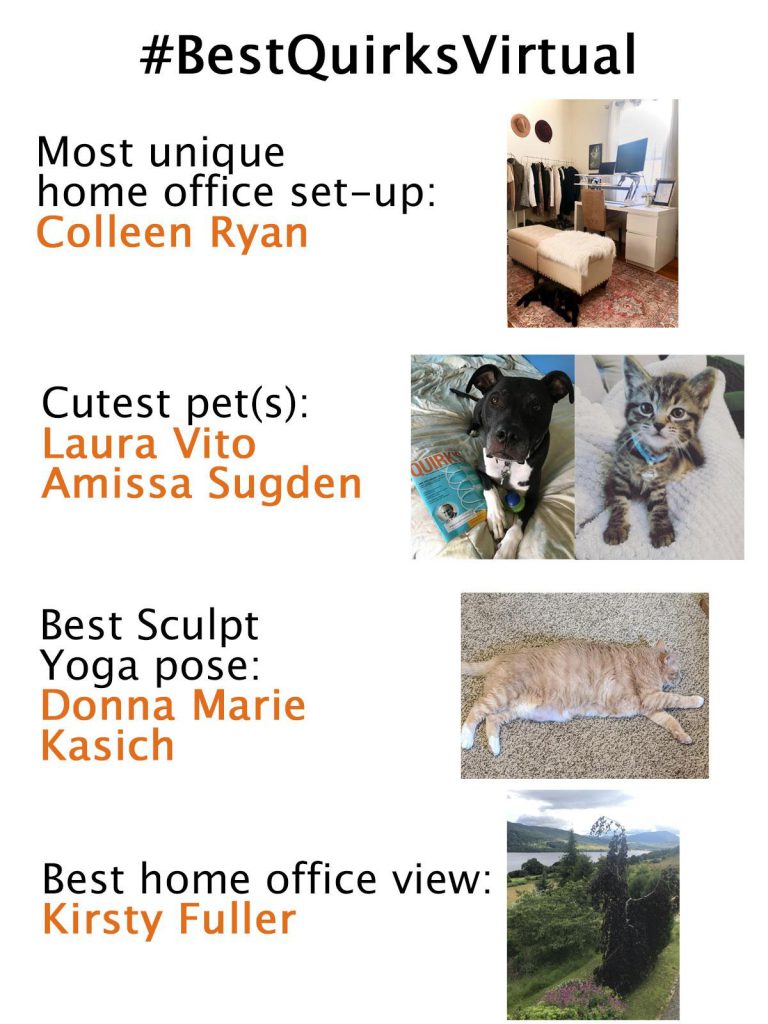 As anticipated, COVID-19 was an integral part of most of the presentations. Below are a few of Archana's personal favorite presentations and her key takeaways from each.


Do you know your chickens? A case study in online panel development


Expert presenter: Ron Pocs (CNH Industrial)


In this presentation, the presenter discussed the need to develop more efficient, flexible ways to conduct necessary research with agricultural customers. The approach they took was to establish an in-house customer research panel and actively listen to customers to better provide them with solutions to address their ever-changing needs. The panel is used in addition to regular ad-hoc studies.


After several years of investigating, planning and proposing, CNH developed the panel. The panel of over 900 customers has provided feedback on a regular basis across a number of topics. They've also used a variety of channels to obtain the information. The successful panel led to a global specialty panel of "lead advisor" dealers and customers.


The key takeaways discussed:


Overcoming organizational challenges
The importance of experienced research partners
Lessons learned from creating and maintaining a B2B panel over time

The presenter, Ron, explained an action-seeking strategy by revisiting the title of his presentation. At the conclusion of the presentation, he gave an explanation of his title: "Do you know your Chickens?" What you sow is what you reap, like in the case of chicken farmers. You have to understand the needs and requirements of chickens to really get the best product from them; likewise, it is important to have the right panel members and is most important to understand their requirements.

This presentation really resonated with us because, from a project design and analysis perspective, our core competency is in bringing together traditional research methods and behavioral approaches. We have designed and successfully implemented more than 500 conjoint studies in agriculture, construction, and transportation.

The work Ron and his team put into setting up a panel of agricultural equipment customers is very impressive. We've been doing similar work, maintaining a panel of farmers in Russia and Ukraine, so we appreciate the amount of effort it takes to recruit and maintain the customer panel.


Managing the future of in-person marketing research


Expert presenter — Rebecca West (Civicom + L&E Research)


There is hope on the horizon for live, in-person market research in focus group facilities. That was the feeling during this presentation. Up-to-date technologies combined with creativity and planning make it possible to bring people together while still practicing safe social distancing. You can be engaged in a live group in a different way.


Focus groups are obviously changing, and that will impact the data researchers collect based on the environment in which it's collected. The core product discussed in this presentation was an omnidirectional camera that captures emotion, enthusiasm, and engagement of the participants. Researchers can still acquire these "Three E's" while conducting research during the pandemic, and it'll be worth the researcher's time and energy when they can look back at the panoramic footage at a later date. The research team also still wanted in-person focus groups, so they reconfigured their focus rooms to be COVID-19 conscious. There were see-through plexiglass walls, spaced seating, plenty of personal protective equipment (PPE), and more to prevent the spread of the disease or contamination of the facility in the first place.


Key takeaways discussed:


New technologies, like cameras that capture emotion, enthusiasm and engagement, can provide an in-person, intimate feel for interviews spread out for social distancing
In-person focus groups are possible with the right COVID-19 precautions — plexiglass walls, PPE and plenty of spacing helps create a safer environment

This presentation resonated with Bazis as one of our key strengths is in-person research and the insights we glean from those interviews. These creative solutions highlight how market researchers can safely restart live in-person research and continue to provide the information from key decision makers our clients crave.


Digital transformation: No going back


Expert presenter: QualSights

The research and insights industry has witnessed a broad digital transformation over the past decade. But the near mandate for remote and virtual interviewing due to COVID-19 quarantines is seen as not just a stop-gap during the pandemic, but as an opportunity to expand how traditional in-person research (focus groups, shop-a-longs and interviews) is conducted. This presentation took an optimistic view of some of the pivots market researchers have made during the pandemic.

The argument is many of the changes brought about because of the pandemic — shifting toward remote, virtual and agile methods — may endure. For example, companies are realizing they can connect with consumers dramatically faster and more cost effectively through remote methods. Importantly, they are not sacrificing depth of insight and contextual understanding once only available through in-person methods.

The key takeaways discussed:


Remote and virtual interviews are not a panacea during the pandemic — they can be a powerful tool to expand the reach of qualitative research and streamline understanding of the data collected.
AI and natural language processing are great ways to surface insights across many respondents

This presentation was an interesting one for us as well. While we no doubt acknowledge digital transformations and recognize the impact of the pandemic, we feel that in-person focus groups and interviews done in a safe manner provide the kinds of insights that still prove challenging in a solely virtual world.

Along with the presentations discussed here, there were some other very interesting topics from this year's virtual event, such as:


Global consumer trends COVID-19: What will it take to get customers to return? — presented by Dynata
Behind the curtain: Perspectives from corporate insights leaders – presented by MarketVision Research
Are we there yet? Finding our way to 'normal' – presented by Ignite 360
Choosing from a feast of options: How to integrate qualitative tech for maximum impact – presented by Schlesinger Group and InsightFarm

For more insights from one of the last in-person market research events our team attended, read our key takeaways from OIROM in Moscow.

We're looking forward to sharing more insights from you from upcoming virtual conferences…and, when it's safe to do so, our next in-person conference : )